What is SmartHub?
SmartHub allows you to manage all aspects of your Whidbey Telecom account online, on any device. Customers that use online Bill Pay to review and make payments will be able to update their account to our SmartHub system. It offers additional secure account details and options to pay online using your smartphone, tablet or computer with an internet connection.
With SmartHub you can:
View statements
Make payments
Setup Auto Pay
Report an issue
Communicate with Whidbey Telecom
Review payments applied to your account
Sign up for paperless (e-bill)
Setup text and email notifications
And More!
What is the difference between SmartHub and Pay Now?
SmartHub is an online bill pay service that you log into. With SmartHub you can view your statements, make payments, communicate with Whidbey Telecom, and set up text or email notification.
Pay Now allows you to make a one-time payment without registering for SmartHub. When using Pay Now, you will not see or have access to any of your account information. To make a payment using Pay Now, you will need your Whidbey Telecom account number.
Need to pay now over the phone? Call our secure, toll-free number at 833-410-0491 to access our automated pay-by-phone system. NOTE, this number is for U.S., Puerto Rico, and the U.S. Virgin Islands only, not for international calling.
Do I have to change the way I pay my bill in order to use SmartHub?
No. You can take advantage of all of the features of SmartHub and continue to pay your bill as you currently do.
For more Frequently Asked Questions regarding our billing processes, CLICK HERE.
Who can sign up for SmartHub?
Any residential or business customer with a Whidbey Telecom account number can sign up for SmartHub. This includes accounts for Hat Island Telephone Company and Bayview Storage.
NOTE: If you are currently on auto pay, you MUST register for a SmartHub account.
Where can I find my account number?
You can find your account number on a printed bill statement mailed to your residence or business. If you have previously received emails from Whidbey Telecom about your monthly bill being ready to pay online, your account number is provided in that email. You can also call Whidbey Telecom at 360-321-1122 for customer assistance.
How do I sign up for SmartHub?
You can sign up from our website HERE. Select Continue to SmartHub which will take you to the SmartHub portal.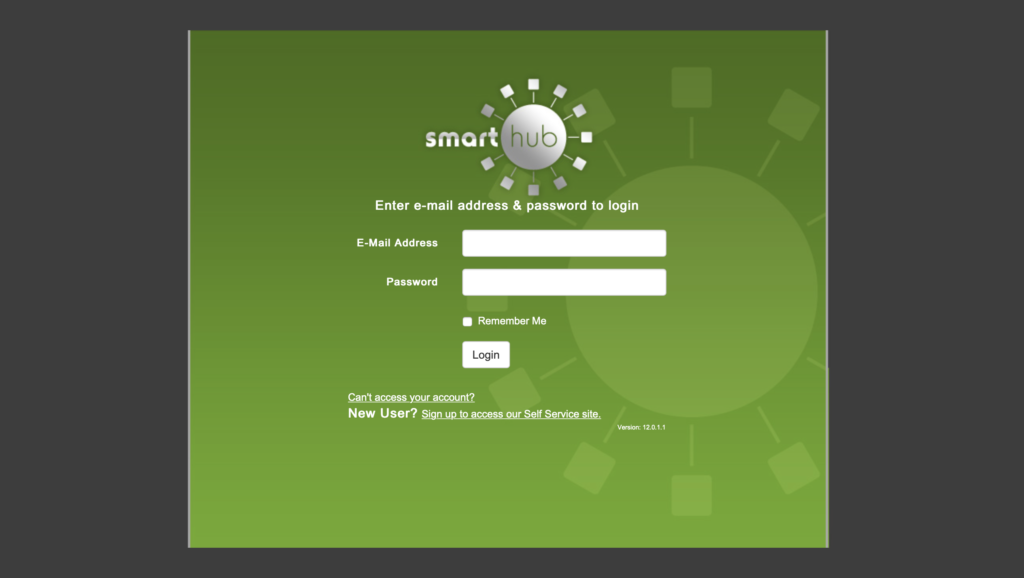 From there, select "New User? Sign up to access our Self-Service site" hyperlink on the login page. You will need to enter your account number, last name and email to start the registration process. (It is not necessary to enter the zeroes in front of the account number.) You can find your account number on a printed bill statement mailed to your residence or business.
Next, you will need to answer validation question(s) to register and establish 2 secret hint questions. You may select a different question by clicking on the triangle toggles to the right and choosing another from the list.
Once registration is complete, an email will be sent with a temporary password required for the first login. Check your email for the temporary password. (If you do not receive a temporary password, please check your junk mail, or call our Customer Experience team and they can give you a temporary password.)
Return to SmartHub and enter your email address and temporary password. You will be then be asked to change your password. Enter the permanent password you wish to use from now on, and you're all set!
How do I navigate SmartHub?
The SmartHub Dashboard is where you will be brought every time you log into your account. Here is where you will find:
A summary of your account(s)
Important communication/access
Bill Pay access
Account management options
Past bill and payment history
If you can't find what you need on the dashboard, then check the top menu. The top drop-down menus provide more options and customization.
How do I set up notifications in SmartHub?
Add your cell phone or email address to SmartHub to receive notifications about things like:
Bill is available to view
Bill is due or past due
Credit/debit card about to expire
From the SmartHub main page, click on the Notifications tab
Verify that your contact information is in SmartHub by going to Manage Contacts in the far left menu.
If you need to add an email or phone, select + Add E-mail Contact and/or +Add Phone Contact located at the top.
Input your desired contact method(s) and accept the Terms and Conditions.
You will receive an E-mail and/or text message to complete the activation
Click the Manage Notifications link in the far left menu. The Manage Notifications page appears, displaying various categories of notifications, including Billing, Miscellaneous, and On Demand.
Click the arrow to the left of the desired category to add/edit notifications.
Under each Alert Type, select the method(s) in which you want to be notified. (Some options are not editable.)
When done, select Save Settings for each category you have updated.
How do I pay my bill in SmartHub?
On the Web version of SmartHub, you can make a payment to a single account or to all accounts by clicking on the Pay My Bill button under Quick Links. To pay the total amount owed on multiple accounts, click the Pay Now button in the upper right corner of the screen or the Make Payment button on the home page of SmartHub.
How do I sign up for Auto Pay?
Set it and forget it! Sign up for Auto Pay to automatically send your payment straight from your credit/debit card or bank account. Your payment will automatically be deducted from your account each month.
From the SmartHub dashboard:
Select Billing & Payments from the top drop down.
Select Auto Pay Program from the left navigation.
Click Sign Up for Auto Pay.
Accept the Terms and Conditions.
Select Card or Bank Account and enter your information in order to pay for services automatically each month.
How do I add my credit card or bank information to SmartHub?
To view and/or manage your existing payment methods from the SmartHub application:
Select My Profile from the top menu bar.
Select Manage My Stored Payment Accounts. From here you can view your existing payment options (credit card or bank account).
If you want to add a payment option you can select Add New Card or Add New Bank Account.
What if you already have my credit card information from the old system?
We take great care to comply with all payment card industry compliance laws which protect your credit card information. That means that we cannot simply extract and move existing credit card information to the new billing system. Therefore, if you previously set up automatic credit card payments, you will need to re-enter your credit card information into our new system.