Download the SmartMail Voicemail User Guide here.
How do I login to the SmartMail web interface?
You can access your SmartMail Voicemail from the top of any Whidbey Telecom web page by clicking on the "My Voicemail" button. Scroll down to the Voicemail box and select "Log in". At the Login page, enter your 10-digit voicemail service phone number and password.
You can also type the direct link into your address bar: voice.whidbey.com.
Why does my voicemail desktop look different?
The SmartMail Voicemail web interface was recently updated to be more user-friendly. This does not affect your account or service plan. The new system allows more customization and better navigation. For example, options to change your password and/or PIN, or access the Helpdesk, are now quick links on your dashboard. We will discuss these changes in more detail below.
If you have any questions or require any assistance with the new interface, please call our 24/7 Tech Support Center at 360-321-TECH (8324).
What is my PIN and how do I set it up?
Your Personal Identification Number (PIN) is your security or passcode used to access your SmartMail service. You can setup and/or change your PIN from either your phone or the SmartMail web interface.
For lost or forgotten PINs, please contact our 24/7 Technical Support at 360-321-TECH (8324).
Can I bypass the PIN to access my SmartMail account?
To maintain a high level of security for your SmartMail account, it is highly recommended that a PIN be required to gain access. Without a PIN, anyone with access to your phone will be able to listen to your voicemail messages, as well as assume your SmartMail user identity when sending messages. SmartMail does offer a Skip PIN feature that can be turned off or on either through a phone or through the SmartMail web interface.
To update your Skip PIN status through the SmartMail Web Interface:
From the SmartMail dashboard, select the "Message Settings" icon at the bottom. Then select "Mailbox Access". Click the box next to the "Skip PIN" field to disable this feature. Click on the "Apply" button to save your changes.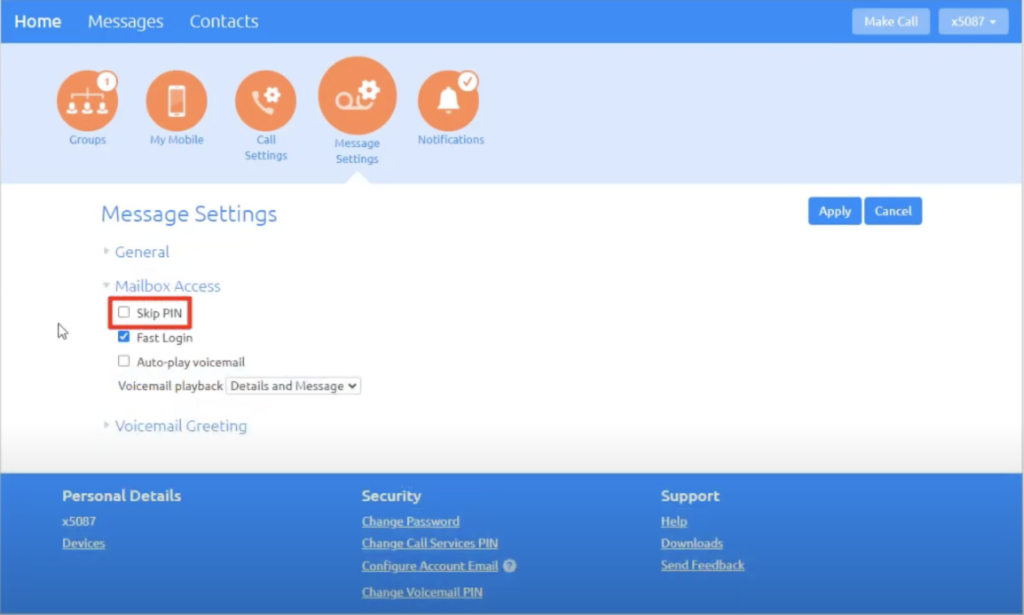 To update your Skip PIN Status by phone:
Dial 360-321-MAIL and enter your PIN. Then press 4 from the Main Menu to enter the Mailbox Settings portion of the SmartMail phone tree, then press 3, then 3 again to hear your current Skip PIN feature status. If you wish to change this setting, please press 1. The system will then advise you of your updated Skip PIN feature status.
How do I listen to my voicemail messages or forward them to an email address?
From the dashboard, click on the "Messages" tab at the top. From there, you can listen to and/or view a transcription of new voice messages.
You can forward a SmartMail voicemail message to another SmartMail subscriber or as an email to any email address you choose. Click on the "Action" toggle on the message you want to forward. From the dropdown, you can select whether to forward the message as an email or voicemail.
Why should I setup a SmartMail Contacts List?
Having a Contacts List in SmartMail allows you to enhance many of the SmartMail features. For example, if the person calling you is one of your contacts, SmartMail will display their name within the voicemail message information, not just their phone number.
How do I add new contacts to my contacts list?
From the SmartMail dashboard, click on the "Contacts" tab at the top. To add a new contact click the "New Contact" button. Enter the contact details. When finished, click "Save".
How do I setup my SmartMail voicemail greeting?
From the SmartMail dashboard, select the "Message Settings" icon at the bottom. Then select "Voicemail Greeting". From here you can record or upload greetings. You can select a standard system greeting from the dropdown box next to "Use The Greeting":
System: This plays the normal system greeting with no identifying information
System with number: This plays the normal system greeting, including your phone number
System with name: This plays the normal system greeting, but includes your recorded name
Personal: To record your own greeting using the microphone from your computer, select "Personal" from the dropdown and press the "record" link.
How long can my SmartMail voicemail greeting be?
With our Edge Plan your greeting can be up to 2 minutes long. Our Flex Plan offers a greeting up to 1 minute long.
How long can voicemail messages be and how many messages can be saved?
With the Flex Plan you can receive and save up to 21 messages that can be up to 3 minutes long each. The Edge Plan offers you up to 31 messages that can be up to 4 minutes long each. All messages that are older than 30 days will automatically be deleted. You have the option to save voicemail messages longer by forwarding them as an attachment to an e-mail address of your choosing.
If I accidentally delete a voicemail message am I able to restore it?
If you delete a voicemail message through the SmartMail phone tree, please press 6 on your phone number pad to enter into the Erased Messages portion of the phone tree. Please press 1 to repeat erased messages and press 2 to restore the voicemail message that you wish to restore. Voicemail messages that you delete through the SmartMail Web Interface will be permanently deleted.
Can I see my call history and for how long?
The SmartMail Web Interface will maintain the record of a call for up to 60 days and will do so for up to 500 calls! The call record includes the call specifics, such as the phone number and date and time of the call. Once a call record is more than 60 days old (from the date of the call) the record will be automatically deleted.
Is there a minimum browser requirement?
The SmartMail Web Interface is currently compatible with most browsers. However, older versions of certain browsers and some uncommon browsers may not function.
The earliest versions supported by SmartHub Web are as follows:
Chrome – 40.0
Explorer – No longer supported
Firefox – 33.0
iOS – 9.3
Microsoft Edge – 15.0
Safari – 10.0
Customers using an unsupported version will receive a message "Browser Not Supported – We have detected that you are using a browser that is not supported by SmartHub." The message includes instructions on how to install or upgrade a supported version.
If you need further assistance, please contact the Technical Support Team.
If my Web Interface account has been locked due to too many failed login attempts, how can I unlock it?
To ensure the security of your account information and service, when necessary, we may temporarily lock the ability to login to your SmartMail account through the Web Interface. If locked out, you can wait one hour and try again. If you find you're unable to remember the correct PIN to login either through the Web Interface or through the phone associated with the voicemail service, please contact our Customer Service & Support representatives for assistance. Please be sure to have your identifying personal and account information available when calling for verification purposes.